I was never a big fan of online dating. I prefer the old fashioned method of cold approach which essentially is approaching a girl on the street at any random time with any random opener to get a conversation going, find a common ground, build attraction, then close by getting a phone number.
However, times has changed and technology is making our lives easier in every aspect of life, including the way we meet girls for dating. The modern way of meeting girls is through dating apps such as Coffee Meets Bagel, Tinder, OK cupid, and Meetup. There is actually some benefit of online dating that we cannot fail to recognize.
First off, it allows you to have exposure to all types of women, from all walks of life, women that you would otherwise never be exposed to if it weren't for online dating apps. The amount of women you can meet online is infinite comparing to trying to talk to girls on the street. There are only so many approaches you can do. The great thing of online dating is that you also know that these girls on single so you won't waste your time going after a girl that is already taken or involved with another guy.
Now for the purpose of this post, which online dating app/website is the best?  My answer is obviously my opinion and others may disagree but I will share the reasons why I chose the ones I did. Of all the dating apps, I narrowed it down to 4 apps that I used the most and have the most experience with. I will rank them from the last place (the worst) to the first place (the best).
4. Ok Cupid – https://www.okcupid.com/
Okcupid might have been a good dating app at one point in time but with all these new apps coming out they are a thing of the past. They might as well call it Ok Stupid, come waste your time on this app that won't get you laid at all. That's exactly the experience that I had using Okcupid. First off, this app always has some kind of technical issue. I can't even remember how many times I get booted off and my entire account cannot be located and I am unable to log onto it ever again. The site always gives some bogus reason on having technically difficulties but after some research I realize that Okcupid does some kind of cleansing purge from time to time to manage the amount of accounts that they have. So in order words, some random accounts will be deleted for no reason at all.  I can imagine some major cockblocker sitting behind a computer working for Okcupid and just deleting accounts of guys who are close to scoring or doing very well for themselves and he decides to make their account disappear out of jealousy. There were a few times where I was having good messages with attractive females and building up interest and attractive with them. Then just when I'm about to ask them for their number then my account gets deleted.
Besides that, the quality of the girls on OkCupid isn't all that great and for some reason lately it's been flooded by obese black and Spanish girls. The White and Asian girls here are of lower quality. Many of the girls I met on OKcupid were a waste of time and worst, a waste of my money. The money and time that I invested trying to wine and dine to lay these girls did not pay off or even come close to it. The girls on Okcupid are low quality, unattractive, and flaky. The website and app always encounters some kind of tech issue and the customer service sucks. Ok Cupid has not gotten me laid EVER and I've been using it on and off since 2012. Save your time and money, there are better dating apps out there.
Good for: Guys who like Black and Spanish girls. Guys who likes the girls with "more to love."
3. Tinder – https://tinder.com/app/login
Has a notorious reputation for being a "hook up" site. I would agree as most of the girls here are down to fuck whether it will be a one nights stand or a quick fling. But to be honest, I feel this app will work more in the favor to White, Black, or Spanish males. Asian guys can get laid on this app but I see us having to put in more work as compared to the other races. The majority of women on this site are Non Asians, mostly White and Spanish women. It's a great site to use for White Males and I know countless white guys that get laid on this site like champs. I myself, an Asian male; met a Dominican girl in NYC who had a thing for Asian guys using the tinder app. This site will get you laid.; some more than others.
Best for: White Males
Worst for: Asian Males
For some tips, tricks, and advice on how to maximize getting dates and getting laid on Tinder check out this book Click Here!
2. Meetup – https://www.meetup.com/
Meetup at one point of my life was my favorite dating app. It has gotten me more dates than I can remember and has gotten me laid plenty of times. Meetup differs in ways where besides just a dating app, it can also be an activity app. So instead of just messaging girls and asking for dates as you would with tinder for example, you can join a like minded group such as table tennis, scary movies, or join a groups such Single Asians in NYC that do fun stuff and get to meet girls all while still enjoying fun activities such as skydiving, surfing, snowboarding with the group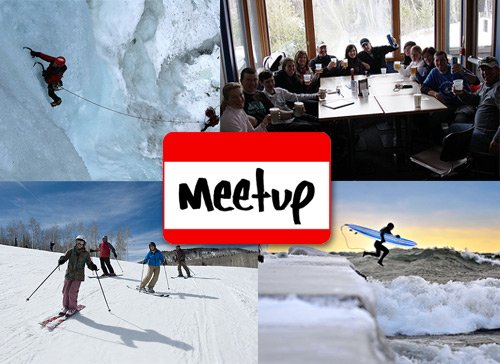 Great for all types of people: Asian, White, Black, Hispanic, Indian. There are groups formed for all types of people for all walks of life.
This dating site is especially great for foreign countries. It is a great way to meet girls really quick while your visiting another country. Trust me, I know. When I was in Hong Kong using this site got me plenty of dates and sex.
1. Coffee Meets Bagel – https://coffeemeetsbagel.com/
Coffee meets Bagels is a fairly new dating app but it seems to taken the online dating world by storm. I think CMB is the best online dating app for Asian males and is the one dating app that has the most Asians on it. I think this can be attributed to the founders being Asians themselves. If you've seen the Shark-tank episode of the Kang sisters trying to pitch this dating app to the sharks and they get a one time 30 million dollar offer from Mark Cuban which they turned down! That's how much potential they saw in this app and they felt it was worth much more which it seems as of now they were right.
This app has a non stop ending supply of girls. It's a clean design, user friendly, and easy to use. The only issues I have with it is the occasionally technical freezes but its not all that bad given the value and the quality of the girls on the app. You can easily personalize your matches to Asian girls, white girls, age range, location, etc. Most girls here are of high quality in terms of looks and education and are a lot less flaky. I even met a few virgins on this site.
I just starting using this app about 2 months ago and I've already gotten laid twice, fooled around with a few others and an endless flow of dates on the weekends. I have countless dates and phone numbers from it then I actually kind not keep up with it all that I have to pick and choose and weed out the girls that I think won't be worth the time. This is the first time in online dating that I had so much girls on rotation that I get to pick and choose (besides using meetup.com in Hong Kong). I have good luck getting blonde white girls on this site, something I cannot do on tinder for instance. This site is Asian man friendly and if your an Asian or White male, I highly recommend you use it!
Good for: Asian and White Males
Hookups, casual dating, or long term relationships
For more tips on how to hook up with girls on Coffee Meets Bagel check out this book written by a fellow Asian American author